Branded Arts have just wrapped up the Maya Angelou Mural Festival, as part of its LAUSD mural festival series, a large-scale project that started with the Robert F. Kennedy Community School in 2016. Branded Arts invited over 30 local and international artists to paint a series of murals dedicated to the ideals of Dr. Maya Angelou, and to create murals that fit within the cultural landscape of the community.
"You may encounter many defeats, but you must not be defeated. Please remember that your difficulties do not define you. They simply strengthen your ability to overcome." Maya Angelou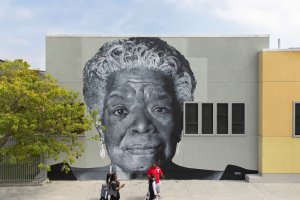 For the Maya Angelou Mural Festival, Branded Arts invited artists from the local community as well as world renowned artists to paint at the Dr. Maya Angelou Community High School. Muralists included 1010, Add Fuel, Daniel Arsham, Axel Void, Bliss One, Brushwork, Victoria Cassinova, The Clover Signs, Enk One,  Josh Everhorn, Shepard Fairey, Faith XVLII, Rob Hill, Huge, JR's Inside Out Project, L.E.O., Jona Meelan, Mictlan Murals, Mr B Baby, Ni Santas, Nunca, Perez Bros, Petal 1, Rabi of Cyrcle, Raquel Rojas, Tochtlita, Valfre, Shawn Michael Warren, Andi Xoch, Joan Zeta, and ZUCO
 "You may shoot me with your words, you may cut me with your eyes, you may kill me with your hatefulness, but still, like air, I'll rise!" Maya Angelou
Check the finished murals below for this beautiful project curated by Warren Brand, founder of Branded Arts…
"If you are going down a road and don't like what's in front of you, and look behind you and don't like what you see, get off the road. Create a new path!" Maya Angelou
The post Street Artists dedicate Murals to Maya Angelou, Maya Angelou Mural Festival, Los Angeles 2019 appeared first on GraffitiStreet.