French artist Ador has recently spent time painting penguin murals in the old town of Anabta in Palestine, having been invited by ABJC association in Bouguenais. 
The ABJC foster friendships and solidarity, with partners from different countries and to promote fundamental rights in the world through numerous intercultural and intergenerational exchanges.
The old town of Anabta is one of the twinned cities of Bouguenais so when Ador returned from Anabta he painted a tribute mural entitled 'Flag Time' for Anabta, Palestine in the twinned municipality of Bouguenais, France.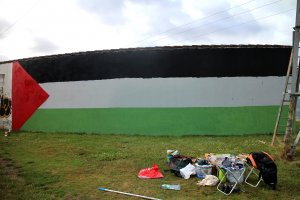 Ador continued painting his penguin characters, in keeping with the penguin characters in Palestine.
The mural can be found in front of the performance hall, Centre Marcet in the municipality of Bouguenais (Loire-Atlantique, Pays de la Loire).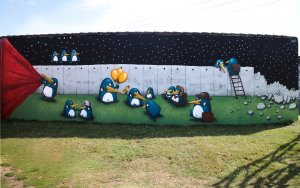 Check out the video of 'Flag Time' below…
Photo and Video Credit Sarah Guilbaud
The post Street Artist Ador paints a tribute mural entitled 'Flag Time' for Palestine, France 2019.  appeared first on GraffitiStreet.